Keeping in touch with Microsoft Teams Chat and Meetings
A handy how-to guide on using Microsoft Teams for Meetings & Calls
Using Teams Chat
In chats you can have a One on One and group chats
You can make a video and audio call directly from Chat – Making Calls
You can pin your chats so that they sit at the top of your Chat Feed – you can pin up to 15 chats. (See above)
You can hide a chat if it is no longer relevant and you can delete a message you just sent
You can share your screen in a Chat
Creating Chat Groups
You can search for messages within Teams in the command box at the top of Teams.

Why Chat is important?
A lot of remote workers find the thing they miss the most about the office is casual conversations. Chats keep us connected. Be deliberate about reaching out and connecting with your co-workers.
Think of chat messages as your virtual watercooler and set yourself a reminder to check in with people regularly. Emojis, GIFs, and stickers are a fun way to keep in touch.
Meetings and Calls
Meetings in Teams include audio, video, and screen sharing.
Teams meetings are best when you create and join them from the Teams app. The PLD Team recommend creating meeting using the Calendar within Teams. The meetings synchronize with your Outlook Calendar.
Schedule a Meeting from the Calendar within teams

Select New meeting
Type in a meeting title
An online meeting is created by default
Choose a start and end time and add details if needed
Enter names in the 'invite people' box to add them to the meeting
View Meetings
Select Calendar to view your appointments and meetings for the day or work week
These appointments stay synchronized with your Outlook calendar
Select a meeting invite to see what the meeting's about, who's attending, and to respond to the meeting.
Joining Meetings
You can join from a link, the Calendar within Teams (recommended), from a Chat and from a Channel.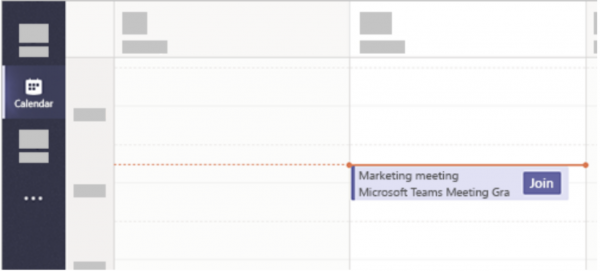 Video on Joining a Team
In a Meeting
We encourage you to turn your video on for the meetings if you feel comfortable. The face-to-face interaction goes a long way to help us feel connected
When you join a meeting, you can set your audio and video settings- turning video/audio on or off and blurring your background
Once the meeting has started you can change these settings. You may want to mute your mic when you are not talking but remember to turn it back on when you are speaking.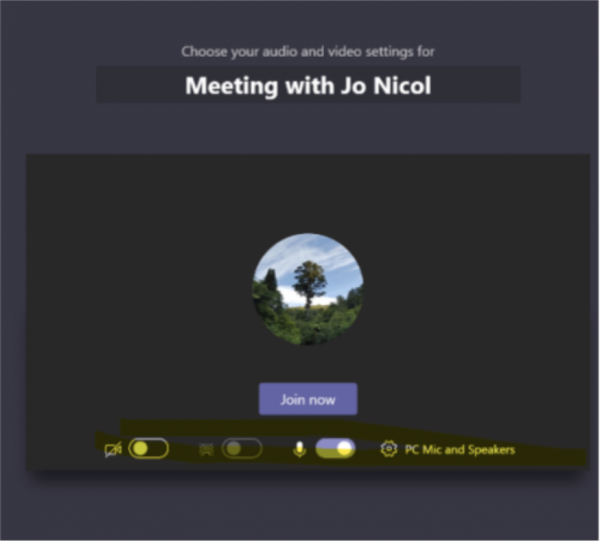 Teams tries to anticipate what you'll want to see in a meeting. When someone starts speaking, Teams shows them. When someone shares content, Teams shows that.
A crowded call can make it difficult for people to share their opinions and contribute.
Whoever is leading the meeting – pause frequently to allow time for questions and people can use the chat window to share their thoughts during the meeting. An agenda for the meeting is also very helpful.
You can also use a Digital Collaborative Whiteboard (it is integrated into Teams) during a meeting.
Sharing your Screen during a Meeting
Record your Meetings
Record your meetings in Teams to capture audio, video, and screen sharing activity. Team members wo aren't able to join can watch the meeting later. That way, people can easily review anything they missed or need repeated.
For more details on Meetings, see: Microsoft Teams Help and Learning
Blurring your Background during a Meeting
In Microsoft Teams, you can show your desktop, a specific app, presentation, or any file while in a meeting.
Select Share
Select what you want to share:
– Desktop lets you show everything on your screen
– Window lets you show a specific app
– PowerPoint lets you show a presentation
– Browse lets you find the file you want to show
After you select what you want to show, a red border surrounds what you're sharing
Select Stop sharing to stop showing your screen.
Talk to us today to help with the solutions that are right for your organisation
Our office hours are 8.30am to 5pm Monday to Friday. Give us a call on 0800 686 686 or email us with the form below.